Celebrity Cruise porta campi da pickleball in alto mare
I fan possono cavalcare l'onda dello sport più in voga su nove delle navi della compagnia di crociera
Lo sport in più rapida crescita al mondo sta arrivando sulle più grandi navi da crociera del mondo. Celebrity Cruises, la prima compagnia di crociere ad essere classificata da Forbes Travel Guide, sta aggiungendo campi da pickleball a nove delle sue navi della flotta. Che si tratti di un giocatore alle prime armi o di un appassionato professionista, i viaggiatori possono godere di campi all'aperto e viste panoramiche sull'oceano mentre praticano lo sport popolare, un ibrido di tennis, badminton e ping-pong.
Aperto a giocatori di tutti i livelli, il pickleball sarà offerto gratuitamente a tutti gli ospiti che navigano su una nave partecipante. Gli ospiti possono godersi il pickleball a loro piacimento in attesa della disponibilità del campo o come parte di eventi e tornei organizzati guidati dal team di attività della nave. Saranno programmati orari separati per il gioco degli adulti dai 18 anni in su o per il gioco della famiglia dai sei anni in su. Gli ospiti possono portare la propria attrezzatura a bordo o utilizzare la rete da pickleball, le racchette e le palline fornite da Celebrity Cruises.
---
CELEBRITY CRUISES BRINGS PICKLEBALL TO THE HIGH SEAS
Fans Can Ride the Wave of the Hottest Sport on Nine of the Cruise Line's Ships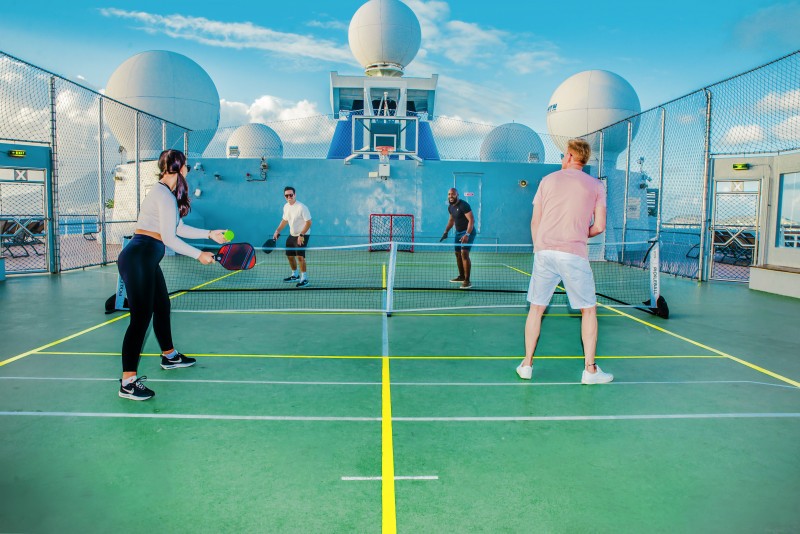 MIAMI (March 14, 2023) – The world's fastest growing sport is coming to the world's greatest cruise ships. Celebrity Cruises, the first cruise line to be Forbes Travel Guide star-rated, is adding pickleball courts to nine of its ships in the fleet. Whether a first-time player or an avid pro, travelers can enjoy open-air courts and panoramic ocean views while playing the popular sport, a hybrid of tennis, badminton and ping-pong.  
Open to players of all skill levels, pickleball will be offered complimentary to all guests who sail on a participating ship. Guests can enjoy pickleball at their leisure pending court availability, or as part of organized events and tournaments led by the ship's activities team. Separate times will be scheduled for adult play 18 and over, or family play of six years and older.  Guests can bring their own equipment onboard, or use the pickleball net, paddles and balls provided by Celebrity Cruises. 

"We are so excited to offer this social, fun and trending activity to both new and seasoned cruisers alike, whether traveling solo, as a couple, or as a group," said Keith Lane, Senior Vice President, Hotel Operations, Celebrity Cruises.  "And, imagine playing on the ship's top deck with views of some of the world's most amazing places all around you. What an experience!" 

The nine Celebrity Cruises' ships now offering pickleball include: two Edge Series ships – Celebrity Beyond and Celebrity Apex; plus Celebrity Constellation, Celebrity Eclipse, Celebrity Equinox, Celebrity Infinity, Celebrity Millennium, Celebrity Solstice and Celebrity Summit.

Court locations vary by ship. On Edge Series ships Celebrity Beyond and Celebrity Apex, pickleball is played at the lush and roomy Rooftop Garden. On Solstice Series ships including Celebrity Eclipse, Celebrity Equinox and Celebrity Solstice, pickleball will be offered on the Sports Deck (Deck 15). Meanwhile, on Millennium Series ships Celebrity Constellation, Celebrity Infinity, Celebrity Millennium and Celebrity Summit, players can head to the Sports Court (Deck 12).

For more information and to book a sailing with Celebrity Cruises, visit www.celebrity.com, contact a trusted travel advisor, or contact Celebrity Cruises at 888-751-7804 or internationally at 316-554-5961.
About Celebrity Cruises:
Celebrity Cruises' iconic "X" is the mark of a fleet of 15 relaxed luxury resorts at sea taking guests to the world's best places on the world's best places. Celebrity revolutionized the industry with its cool, contemporary design and accommodation; dining, spa, and entertainment experiences for modern tastes; and culturally rich and diverse destination experiences, all complemented by warm, personalized service.  Driven by wanderlust and a passion for opening the world, Celebrity journeys to all seven continents, visiting nearly 300 destinations in more than 70 countries.  Celebrity Cruises is one of five cruise brands owned by global cruise company Royal Caribbean Group (NYSE:  RCL).  For more information about Celebrity Cruises, please visit www.celebrity.com.