Regent Seven Seas Cruises® e Fabergé svelano i nuovi viaggi Spotlight
I leader del lusso hanno accuratamente curato due viaggi esclusivi che immergono gli ospiti nel mondo di Fabergé
Opportunità per i viaggiatori di lusso di godersi la visione privata dei ritratti reali britannici nel programma di 2 notti prima della crociera
Regent Seven Seas Cruises®, la compagnia di crociere oceaniche di lusso leader a livello mondiale, e Fabergé, la Maison di gioielleria apprezzata in tutto il mondo, hanno collaborato per creare due nuovi Spotlight Voyages. Le due crociere speciali porteranno gli ospiti nel mondo di Fabergé con programmi di master class per piccoli gruppi, accesso esclusivo a tour a terra unici e intimi, dimostrazioni di uova ingioiellate e affascinanti conferenze e proiezioni.
---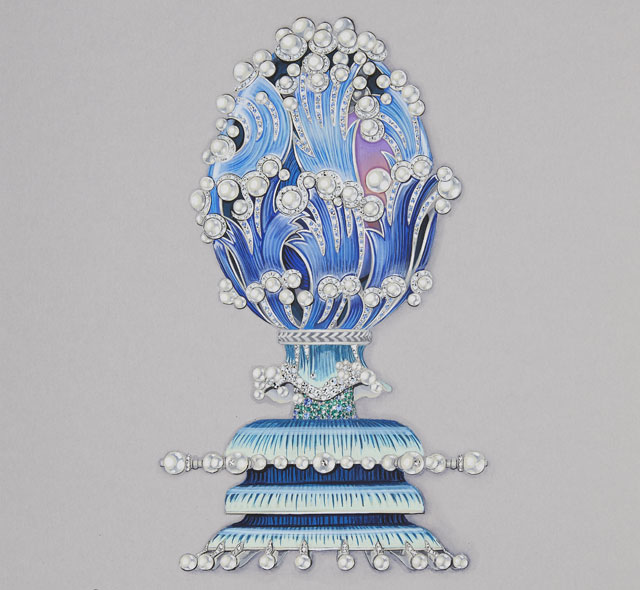 Regent Seven Seas Cruises® & Fabergé Unveil New Spotlight Voyages
Leaders in Luxury Have Carefully Curated Two Exclusive Voyages Immersing Guests in the World of Fabergé
Opportunity for Luxury Travelers to enjoy Private Viewing of British Royal Portraits on 2-Night Pre-Cruise Land Program
MIAMI, March 16, 2023 – Regent Seven Seas Cruises®, the world's leading luxury ocean cruise line, and Fabergé, the globally revered jewelry Maison, have collaborated to create two new Spotlight Voyages. The two special sailings will bring guests into the world of Fabergé with small group master-class programs, exclusive access to unique and intimate shore-side tours, jeweled egg demonstrations and fascinating lectures and screenings.
Additionally, there is also the option to book a special pre-cruise land program in London which includes a visit to the Fabergé headquarters, an exclusive shopping experience in Harrods, private viewing of the royal portraits in Westminster Abbey and more.
The two spotlight sailings, both hosted by the highest of authorities on the Fabergé story, will be on Seven Seas Splendor's® June 13, 2023, 10-night sailing through Northern Europe, hosted by Archduke Dr. Géza von Habsburg, and on new ship Seven Seas Grandeur's July 1, 2024, 10-night sailing around the Mediterranean, hosted by Sarah Fabergé.
"We pride ourselves on offering our guests immersive and culturally enlightening itineraries as well as enriching onboard programming," said Andrea DeMarco, President of Regent Seven Seas Cruises. "We are excited to reveal details about our first of two Spotlight on Fabergé sailings, inspired by the allure of the world-renowned Fabergé Maison. Guests will uncover the rich culture and history of the revered brand, enjoying an unforgettable, unrivaled experience that they know to expect from Regent."
"We are delighted to be able to join Regent aboard their beautiful ships and are very much looking forward to showcasing some of the most enthralling details from Fabergé's story," said Josina von dem Bussche-Kessell, Creative Director at Fabergé. "We have put together a captivating program, which will offer unique behind the scenes insights into the art of bespoke jewelery design, Fabergé's cultured history and royal connections, and also showcase a selection of treasures from our current collections."
Spotlight on Fabergé sailings have been created in celebration of the bespoke, hand-crafted Journey in Jewels egg objet – the first Fabergé egg to reside permanently at sea – which will be the pièce de résistance of the dazzling art collection aboard the new Seven Seas Grandeur, setting sail in November 2023.
Spotlight on Fabergé with Archduke Dr Géza von Habsburg
The first Spotlight on Fabergé sailing will be hosted by Archduke Dr. Géza von Habsburg, Fabergé's Curatorial Director and member of the Fabergé Heritage Council. As Director of the Fabergé Arts Foundation, Dr. von Habsburg has curated numerous prestigious exhibitions around the world.
Before the first Spotlight on Fabergé voyage sets sail from London (Southampton), England on June 13, 2023, guests have the opportunity to purchase an exclusive pre-cruise experience in London. The two-night land program will bring discerning travelers into the world of Fabergé with a visit to the Maison's headquarters for an exclusive welcome by Creative Director, Josina von dem Bussche-Kessell who will present some rare and one-off creations. There will also be the opportunity to handle and view some of Fabergé's loose gemstone sourced directly from the largest emerald and ruby mines in the world. The excursion will be followed by a visit to Harrods and an exclusive meal in Mayfair. Guests will also enjoy a private tour of Westminster Abbey led by Lady Penny Mountbatten who represents royal portrait artist Ralph Heimans, whose portrait of the late Queen Elizabeth II is on display at the Abbey.
Once on board Seven Seas Splendor, guests will cruise the North Sea, calling at Kristiansand, Norway; Copenhagen, Denmark; Gothenburg, Sweden, and Kiel, Germany, before sailing across the Baltic Sea for stops in Tallinn, Estonia and Helsinki, Finland, disembarking in Stockholm, Sweden.
Regent guests can take advantage of unlimited included shore excursions from an extensive menu of culturally rich programs. In Copenhagen, travelers can enjoy an excursion led by Dr. von Habsburg to Amalienborg to view the Royal Danish Collection before visiting the historic Rosenborg Castle. While in Kiel, Dr. von Habsburg will host a private dinner in the quaint German port town.
Regent's Spotlight Voyages offer the opportunity to indulge interests with a variety of onboard activities. The presentation program will include the history of Fabergé described by Dr. von Habsburg, while masterclasses will cover some of the fascinating processes of creation, explaining details of Fabergé's unique pieces and collections. Guests will also learn about the house's signature enamel process, which bring to life some of Fabergé's most unique creations and learn what inspired iconic egg objets, before browsing a pop-up Fabergé boutique for a special purchase, or even commissioning unique pieces to be created by Fabergé London.
Prices for the Spotlight on Fabergé with Dr. von Habsburg voyage start from $13,599 per guest, and can be combined with the exclusive 2-night pre-cruise land program from an additional $2,099 per guest. Some shoreside experiences will be at an additional cost and have limited capacity.
Spotlight on Fabergé with Sarah Fabergé
The second Spotlight on Fabergé sailing will be hosted by Sarah Fabergé on board Regent's newest ship, Seven Seas Grandeur on July 1, 2024. Great-granddaughter of Peter Carl Fabergé and Director of Special Projects at Fabergé, Sarah Fabergé is a founding member of the Fabergé Heritage Council. The 10-night sailing will depart from Rome (Civitavecchia) and cruise the Mediterranean, calling in Salerno, Italy; Taormina (Sicily); Valletta, Malta; Palma de Mallorca; Barcelona, Spain; Provence (Marseille), and Antibes, France before ending at Monte Carlo.
Prices for the Spotlight on Fabergé with Sarah Fabergé voyage start at $12,499 per guest and full program information will be available at a later date.
For more information, please visit RSSC.com, call 1-844-4REGENT (1-844-873-2381) or contact a professional travel advisor.
About Regent Seven Seas Cruises
Regent Seven Seas Cruises is the leading luxury cruise line, delivering An Unrivaled Experience™ for 30 years. Carrying no more than 746 guests, the line's spacious and stylish ships – Seven Seas Explorer®, Seven Seas Mariner®, Seven Seas Navigator®, Seven Seas Splendor®, Seven Seas Voyager® and from 2023 Seven Seas Grandeur™ – form The World's Most Luxurious Fleet™ and explore more than 500 immersive destinations globally. Offering Unrivalled Space at Sea™, guests enjoy sumptuous all-suite accommodations, nearly all with private balconies, which are among the largest at sea, as well as highly personalized service throughout lavish public areas and expansive outdoor spaces. Unique to Regent Seven Seas Cruises, unlimited complimentary shore excursions are available in every port, making it the only truly all-inclusive cruise line. Voyage fares also include round-trip business-class air on intercontinental flights from the U.S. and Canada, gourmet cuisine in a range of specialty restaurants and al-fresco dining venues, fine wines and spirits, entertainment, unlimited internet access, free valet laundry, gratuities, ground transfers and one-night, pre-cruise hotel packages for guests staying in Concierge-level suites and higher. For more information, please visit RSSC.com, call 1.844.873.2381 or contact a professional travel advisor.
About Fabergé
Fabergé, the world's most iconic artist jeweler, creates extraordinary jewelry, watches and objets d'art, as well as bespoke commissions for a discerning international clientele. Founded in 1842, Fabergé has been one of the most revered names in jewelry ever since Peter Carl Fabergé created the 50 ingenious Imperial Easter Eggs for the Romanov family between 1885 and 1916.
Fabergé was officially 're-launched' on 9th September 2009, and is a wholly owned subsidiary of Gemfields Ltd, a world leading supplier of responsibly sourced colored gemstones. Today, Fabergé celebrates 'A Life in Colour', taking inspiration from its storied past to create original pieces which capture the Maison's past, present and future. By painting with the world's finest colored gemstones, Fabergé explores the art of color through creations which are designed to become future heirlooms. Celebrating the concept of the artist jeweler in today's world of luxury, Fabergé traces its legacy of excellence in creativity, design and craftsmanship to bring about a new era of enchanting and enduring personal possessions and gifts, designed to be worn and treasured by contemporary connoisseurs. Current collections are available online at Faberge.com, in-store at Fabergé boutiques in London and Dubai, via 'By Appointment' services in the UK and USA, as well as over 100 points of sale globally via authorized retailers.