Lupino's, ristorante Ambassador in ricordo di Michelle Lupino
Mentre i preparativi per la crociera inaugurale della seconda nave Ambassador continuano, la compagnia rivela che un ristorante di bordo onorerà la collega da poco defunta
La nuova nave di Ambassador Cruise Line, Ambition accoglierà gli ospiti a bordo del suo viaggio inaugurale il 12 maggio, offrendo loro la possibilità di essere tra i primi a gustare un pasto in un ristorante che rende omaggio a Michelle Lupino, la stimata collega Ambassador purtroppo scomparsa a seguito di una breve malattia nell'ottobre 2022.
Michelle Lupino era una personalità vivace e coinvolgente, un membro molto amato, socio in affari e amico di molti sia nella famiglia Ambassador che nel settore in generale. Ambassador ha scelto di onorare la sua memoria creando un'esperienza culinaria a bordo per gli ospiti che riconosca la sua eredità italiana e le sue qualità vibranti, inclusive e cordiali: quella di Lupino.
Lupino's sarà un ristorante in stile mediterraneo con un'atmosfera rilassata e all'aperto. Il ristorante è stato concepito per offrire agli ospiti un'accoglienza fresca, tonificante e calorosa, perfetta per chi desidera godere della compagnia degli altri, siano essi vecchi amici o nuove conoscenze. Per aggiungere un tocco personale, il logo "Lupino's" sulla segnaletica del ristorante è stato progettato in uno stile ispirato alla firma di Michelle.
---
LUPINO'S TO TAKE PRIDE OF PLACE ON AMBASSADOR CRUISE LINE'S AMBITION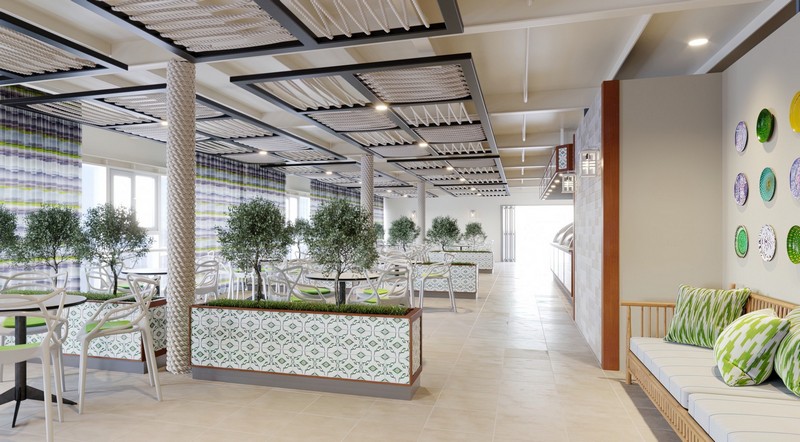 As the build-up to the inaugural sailing of Ambassador's second ship continues, company reveals that marquee restaurant will honour departed colleague
15 March 2023 – Ambassador Cruise Line's new ship, Ambition, will welcome guests onboard her maiden voyage on May 12, offering them the chance to be among the first to enjoy a meal in a restaurant that pays homage to Michelle Lupino – the valued Ambassador colleague who sadly passed away following a short illness in October 2022.
Michelle Lupino was a vibrant and engaging personality who was a much-loved team member, business partner and friend to many in both the Ambassador family and the wider industry. To mark her passing, Ambassador has chosen to honour her memory by creating an onboard dining experience for guests to enjoy which recognises her Italian heritage and vibrant, inclusive and warm-hearted qualities: Lupino's.
Bob McGowan, Head of Guest Experience, Ambassador Cruise Line, said: "I was very close to Michelle, and news of her passing affected me deeply. When I was asked by the business to help create a place on our new ship to honour her memory, I wanted it to be a celebration of her life and the many things that made her so special, including her love of socialising with friends old and new. She was the life and soul of any party or gathering and would always make people feel welcome. We hope the restaurant designed in her image will be a fitting tribute to Michelle, and I'd like to think she would wholeheartedly approve of what we have created."
Working with Atlantic Marine Interiors and renowned interior designer, Guri Blindheim, Lupino's will be a Mediterranean-style restaurant with a relaxed, al-fresco feel. The restaurant has been conceived to offer guests a fresh, invigorating and warm welcome that's perfect for those looking to enjoy the company of others, whether they be old friends or new acquaintances. To add a personal touch, the 'Lupino's' logo on restaurant signage has been designed in a style inspired by Michelle's own signature.
Complete with a soothing colour palette of Ambassador's signature brand colours of 'aloe' (green) with hints of 'allium' (purple), the relaxed atmosphere of Lupino's will feature a convivial dining concept where families and/or friends can enjoy food and drink together. With flexible seating for up to 70 guests, and sharing platters inspired by the local tastes and cultures Ambition and her guests will experience across her various ports of call, the exceptional service, authentic flavours and amazing surroundings set the tone for the intimate feel of Lupino's.
Christian Verhounig, CEO, of Ambassador Cruise Line, said: "Michelle was with us at the very start of our journey as we sought to build the welcoming Ambassador team ashore and onboard that today form the backbone of our business. She was not only an essential member of the team but also a long-term friend of myself and many of her colleagues. As such, when Michelle left us, the overriding feeling was one of utter shock, disbelief and sadness on both a professional and personal level.
"In Lupino's, we have created a warm and welcoming dining experience, which our guests will enjoy for many years to come. Celebrating all the qualities she showed, Lupino's will serve as a constant reminder to us all of the positive and inspiring impact Michelle, and indeed all of us, can have on those around us."
Prior to entering service, Ambition will enter dry dock in Germany for six weeks from the beginning of April, where she will undergo environmental upgrade works, furnishing upgrades and more*. In addition to Lupino's, dining options onboard Ambition will include two main restaurants, speciality dining options in the Saffron restaurant, a more casual bistro style café, four bars, lounges and a wine bar. Entertainment offerings include the main theatre, a card room, library and craft studio. Additional guest facilities will include the wellness centre, gym, two swimming pools and a range of retail shops.
About Ambassador Cruise Line
Ambassador Cruise Line launched in 2021, offering premium-value no-fly cruises to the UK market. Based in Purfleet, Essex, Ambassador provides authentic adult-only experiences combined with a selection of multi-generational itineraries to multiple destinations including the Nordics, Greenland, Iceland, Canada, the Mediterranean, Caribbean and Africa. The cruise line's first ship, Ambience, entered the fleet in May 2022, operating from her home port of London Tilbury.
From the 2023/24 season, guests will sail onboard Ambience's sister ship, Ambition, which joins the fleet on 12 May 2023. Ambition will carry up to 1,200 passengers in 714 cabins, 125 of which have balconies and 113 are suites with up to 62m2 of living space.
Ambassador's extremely experienced management team is led by Chief Executive Officer, Christian Verhounig, and its principal shareholder is Njord Partners LLP, London. Ambassador is a member of ABTA, the UK's leading travel trade association widely acknowledged as the mark of trust and reassurance associated with travel brands. Consumer funds are protected by means of a financial failure insurance policy managed by TMU Management Limited and underwritten by Accelerant Insurance Europe SA, who are regulated by the Financial Services and Markets Authority (FSMA 3193). The scheme is fully compliant with the Package Travel and Linked Arrangements Regulations 2018.
For more information, visit www.ambassadorcruiseline.com