MSC BELLISSIMA PRESENTA NEL PROSSIMO FILM GIAPPONESE DI NETFLIX "IN LOVE AND DEEP WATER"
MSC Crociere è lieta di annunciare che MSC Bellissima sarà protagonista del prossimo film Netflix In Love and Deep Water, che sarà presentato in anteprima mondiale sul servizio di streaming il 16 novembre 2023.
L'attesissimo thriller romantico è stato girato su un set ricreato appositamente di MSC Bellissima e trasmette la gioia della crociera. Il film è doppiato in 14 lingue e sottotitolato in 32 lingue:
Arabo, cinese (semplificato), cinese (tradizionale), croato, ceco, danese, olandese, inglese, filippino, finlandese, francese, tedesco, greco, ebraico, ungherese, indonesiano, italiano, coreano, malese, norvegese Bokmål, polacco, portoghese , portoghese (Brasile), rumeno, russo, spagnolo (America Latina), spagnolo (Spagna), svedese, tailandese, turco, ucraino, vietnamita, ceco, inglese, francese, tedesco, hindi, ungherese, indonesiano, italiano, polacco, portoghese (Brasile), spagnolo (America Latina), spagnolo (Spagna), tailandese, turco
MSC Bellissima salperà per il Giappone nel 2024.
Informazioni su MSC Bellissima
MSC Bellissima è la seconda nave da crociera innovativa della classe Meraviglia della compagnia. Progettata come la nave per tutte le stagioni e ricca di funzionalità a bordo, MSC Bellissima offre agli ospiti un'esperienza di crociera indimenticabile con punti salienti tra cui:
12 punti ristoro e più di 20 bar e lounge, tra cui un ristorante di specialità francesi L'Atelier Bistrot. La nave ospita anche il Chocolate & Café dell'acclamato pasticcere Jean-Philippe Maury, interamente dedicato a creazioni e dessert al cioccolato unici ed eleganti, una delizia per chiunque abbia un debole per i dolci.
Offerte pluripremiate per famiglie con attività e servizi per bambini dei partner LEGO Group e Chicco con un'area dedicata alla famiglia. Spettacoli esclusivi nell'intimo locale all'avanguardia, The Carousel Lounge, che combinano maestose acrobazie, danza e musica per creare un'esperienza di intrattenimento multisensoriale con luci, suoni e spettacoli acrobatici abbaglianti.
L'MSC Yacht Club, un concetto di "nave nella nave", offre lussuose sistemazioni distribuite su tre ponti, servizi privati e servizio maggiordomo 24 ore su 24.
Uno spettacolare Sky Screen a LED in mare che si estende per 262 piedi su una splendida passeggiata in stile mediterraneo, concepito come il centro sociale della nave.
MSC Bellissima è dotata di alcune delle più recenti tecnologie ambientali disponibili. Questi includono un sistema di depurazione dei gas di scarico, un impianto avanzato di trattamento delle acque reflue, sistemi per la prevenzione dello scarico di olio dai locali macchine, un sistema di trattamento dell'acqua di zavorra e vari miglioramenti per il risparmio energetico, dai sistemi di recupero del calore all'illuminazione a LED e altro ancora.
Informazioni su MSC Crociere
MSC Crociere è il terzo marchio di crociere più grande al mondo, nonché leader di mercato in Europa, Sud America, regione del Golfo e Africa meridionale. È anche il marchio crocieristico globale in più rapida crescita con una forte presenza nei mercati dei Caraibi, del Nord America e dell'Estremo Oriente.
Con sede a Ginevra, in Svizzera, MSC Crociere è uno dei due marchi che fanno parte della Divisione Crociere del Gruppo MSC, il conglomerato marittimo e logistico leader a livello mondiale e a capitale privato con oltre 300 anni di tradizione marittima. MSC Crociere, il marchio contemporaneo, dispone di una moderna flotta di 22 navi combinata con un considerevole portafoglio di investimenti globali futuri composto da nuove navi, terminali e altre risorse. Si prevede che la flotta crescerà fino a 23 navi da crociera entro il 2025, con opzioni per ulteriori sei ordini di navi fino al 2030.
MSC Crociere offre ai suoi ospiti un'esperienza di crociera arricchente, coinvolgente e sicura, ispirata al patrimonio europeo della Compagnia, dove possono godersi cene internazionali, intrattenimento di livello mondiale, programmi per famiglie pluripremiati e la più recente tecnologia user-friendly a bordo.
La priorità numero uno della linea è sempre stata la salute e la sicurezza dei suoi ospiti e dell'equipaggio, così come delle comunità nelle destinazioni servite dalle sue navi. Nell'agosto 2020, MSC Crociere ha implementato un nuovo protocollo completo e solido in materia di salute e sicurezza per diventare la prima grande compagnia a tornare in mare. Per saperne di più sul protocollo di salute e sicurezza di MSC Crociere, clicca qui.
MSC Crociere è da tempo impegnata nella tutela ambientale, con l'obiettivo a lungo termine di raggiungere emissioni nette pari a zero per le sue operazioni entro il 2050. La Compagnia è anche un investitore significativo in tecnologie marine ambientali di prossima generazione, con l'obiettivo di supportarne lo sviluppo accelerato e disponibilità in tutto il settore.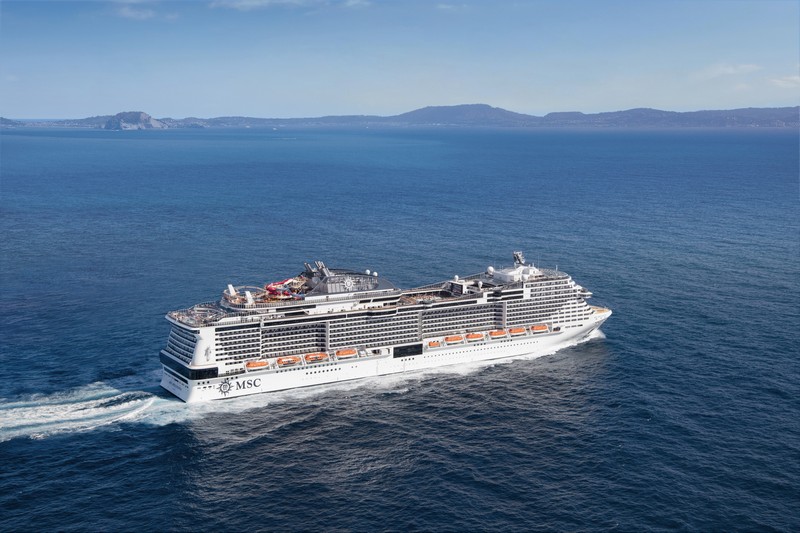 ---
MSC BELLISSIMA FEATURED IN THE UPCOMING NETFLIX JAPANESE FILM 'IN LOVE AND DEEP WATER'
Fort Lauderdale, Fla. – November 13, 2023 – MSC Cruises is pleased to announce that MSC Bellissima will be featured in the upcoming Netflix film In Love and Deep Water, which will premiere worldwide on the streaming service on November 16, 2023.
The highly anticipated romantic thriller was filmed on a purpose-built set recreation of MSC Bellissima and conveys the joy of cruising. The movie is dubbed in 14 languages and subtitled in 32 languages:
Arabic, Chinese (Simplified), Chinese (Traditional), Croatian, Czech, Danish, Dutch, English, Filipino, Finnish, French, German, Greek, Hebrew, Hungarian, Indonesian, Italian, Korean, Malay, Norwegian Bokmål, Polish, Portuguese, Portuguese (Brazil), Romanian, Russian, Spanish (Latam), Spanish (Spain), Swedish, Thai, Turkish, Ukrainian, Vietnamese
Czech, English, French, German, Hindi, Hungarian, Indonesian, Italian, Polish, Portuguese (Brazil), Spanish (Latam), Spanish (Spain), Thai, Turkish
To watch the trailer for the film In Love and Deep Water, please click here.
MSC Bellissima will be sailing in Japan in 2024. For more information on the ship's itinerary, please click here.
About MSC Bellissima
MSC Bellissima is the second innovative cruise ship of the company's Meraviglia class. Designed as the ship for all seasons and rich in onboard features, MSC Bellissima offers guests an unforgettable cruising experience with highlights including:
12 dining venues and more than 20 bars and lounges, including a French specialty restaurant L'Atelier Bistrot. The ship also features acclaimed pastry chef Jean-Philippe Maury's Chocolate & Café, dedicated entirely to unique and elegant chocolate creations and desserts and a delight for anyone with a sweet tooth.
Award-winning family offerings with kids' activities and services from partners LEGO Group and Chicco with a dedicated family deck area.
Exclusive shows in the intimate state-of-the art venue, The Carousel Lounge, combining awe-inspiring acrobatics, dance and music all to create a multi-sensory entertainment experience with light, sound and dazzling acrobatic performances.
The MSC Yacht Club, a 'ship within a ship' concept, offers luxurious accommodations spanning three decks, private facilities and butler service round-the-clock.
A spectacular LED Sky Screen at Sea stretching 262 feet over a stunning Mediterranean-style promenade, designed as the social hub of the ship.
MSC Bellissima is equipped with some of the latest environmental technologies available. These include an exhaust gas cleaning system, an advanced wastewater treatment plant, systems for the prevention of oil discharge from machinery spaces, a ballast water treatment system, and various energy-saving improvements – from heat recovery systems to LED lighting, and more.
To learn more about MSC Bellissima, click here.
About MSC Cruises
MSC Cruises is the world's third largest cruise brand as well as the market leader in Europe, South America, the Gulf region and Southern Africa. It is also the fastest growing global cruise brand with a strong presence in the Caribbean, North America and the Far East markets.
Headquartered in Geneva, Switzerland, MSC Cruises is one of the two brands that sit within the Cruise Division of MSC Group, the world's leading and privately held shipping and logistics conglomerate with over 300 years of maritime heritage. MSC Cruises – the contemporary brand – has a modern fleet of 22 vessels combined with a sizeable future global investment portfolio of new vessels, terminals and other assets. The fleet is projected to grow to 23 cruise ships by 2025, with options for six more vessel orders in place through 2030.
MSC Cruises offers its guests an enriching, immersive and safe cruise experience inspired by the Company's European heritage, where they can enjoy international dining, world-class entertainment, award-winning family programs, and the very latest user-friendly technology on board. To learn more about MSC Cruises' itineraries and experience on board its ships, click here.
The line's number one priority has always been the health and safety of its guests and crew, as well as the communities at the destinations its ships serve. In August 2020, MSC Cruises implemented a new comprehensive and robust health and safety protocol to become the first major line to return to sea. To learn more about MSC Cruises' health & safety protocol, click here.
MSC Cruises has long been committed to environmental stewardship, with a long-term goal to achieve net zero emissions for its operations by 2050. The Company is also a significant investor in next-generation environmental marine technologies, with the objective to support their accelerated development and availability industry-wide. To learn more about the Company's environmental commitment, click here.
Finally, to learn more about the MSC Foundation, MSC Group's own vehicle to lead, focus and advance its conservation, humanitarian and cultural commitments, click here.
About Netflix
At Netflix, we want to entertain the world. Whatever your taste, and no matter where you live, we give you access to best-in-class TV series, documentaries, feature films and mobile games. Our members control what they want to watch, when they want it, in one simple subscription. We're streaming in more than 30 languages and 190 countries, because great stories can come from anywhere and be loved everywhere. We are the world's biggest fans of entertainment, and we're always looking to help you find your next favorite story.