SERBATOI PER GNL INSTALLATI SU MSC WORLD AMERICA
La costruzione di MSC World America, la prossima nuova costruzione di MSC Crociere, è giunta a metà strada. I serbatoi di gas naturale liquefatto (GNL) sono stati recentemente installati a bordo della nave 23 della linea presso il cantiere navale Chantiers de l'Atlantique a Saint-Nazaire, in Francia.
I lavori per la terza nave alimentata a GNL di MSC Crociere sono iniziati nell'ottobre 2022. La nave entrerà in servizio nell'aprile 2025 e farà base presso il terminal all'avanguardia della compagnia a PortMiami, in Florida, che sarà destinato a essere la più grande nave da crociera terminale in Nord America una volta completato.
Le altre navi alimentate a GNL di MSC Crociere sono MSC World Europa, varata nel dicembre 2022 ed è la nave gemella di MSC World America, e MSC Euribia entrata in servizio nel giugno 2023.
Linden Coppell, VP Sustainability and ESG di MSC Crociere, ha dichiarato: "Il GNL rappresenta un importante passo avanti nella nostra ambizione di raggiungere zero emissioni nette di gas serra entro il 2050 e non vediamo l'ora di far base per la prima volta negli Stati Uniti una nave alimentato dal carburante. Il GNL è un combustibile in transizione ed è pronto a lasciare il posto al bio-GNL e al GNL sintetico non appena diventeranno disponibili su larga scala come parte del nostro percorso di decarbonizzazione".
MSC World America effettuerà itinerari di 7 notti nel Mar dei Caraibi durante la sua stagione inaugurale con tutti i viaggi che faranno scalo alla Ocean Cay MSC Marine Reserve, l'isola privata della compagnia alle Bahamas.
La nave a 22 ponti con una stazza lorda di 215.863 misurerà 1.092 piedi di lunghezza e 155 piedi di larghezza. Con una superficie di oltre 430.556 piedi quadrati di spazio pubblico, MSC World America avrà una capacità di 6.762 passeggeri e 2.138 membri dell'equipaggio, oltre a disporre di 2.626 cabine.
MSC World America avrà 13 ristoranti, 20 bar e lounge, sei piscine, tre luoghi di intrattenimento, uno scivolo a secco alto 11 ponti, spa, palestra, parco acquatico e un'area dedicata per bambini di tutte le età.
Informazioni su MSC Crociere
MSC Crociere è il terzo marchio di crociere più grande al mondo, nonché leader di mercato in Europa, Sud America, regione del Golfo e Africa meridionale. È anche il marchio di crociere globale in più rapida crescita con una forte presenza nei mercati dei Caraibi, del Nord America e dell'Estremo Oriente.
Con sede a Ginevra, in Svizzera, MSC Crociere è uno dei due marchi che fanno parte della Divisione Crociere del Gruppo MSC, il conglomerato marittimo e logistico leader a livello mondiale e a capitale privato con oltre 300 anni di tradizione marittima. MSC Crociere, il marchio contemporaneo, dispone di una moderna flotta di 22 navi combinata con un considerevole portafoglio di investimenti globali futuri composto da nuove navi, terminali e altre risorse. Si prevede che la flotta crescerà fino a 23 navi da crociera entro il 2025, con opzioni per ulteriori sei ordini di navi fino al 2030.
MSC Crociere offre ai suoi ospiti un'esperienza di crociera arricchente, coinvolgente e sicura, ispirata al patrimonio europeo della Compagnia, dove possono godersi cene internazionali, intrattenimento di livello mondiale, programmi per famiglie pluripremiati e la più recente tecnologia user-friendly a bordo.
La priorità numero uno della linea è sempre stata la salute e la sicurezza dei suoi ospiti e dell'equipaggio, così come delle comunità nelle destinazioni servite dalle sue navi. Nell'agosto 2020, MSC Crociere ha implementato una nuova piattaforma completa e solida protocollo di salute e sicurezza per diventare la prima grande linea a tornare in mare.
MSC Crociere è da tempo impegnata nella tutela ambientale, con l'obiettivo a lungo termine di raggiungere emissioni nette pari a zero per le sue operazioni entro il 2050. La Compagnia è anche un investitore significativo in tecnologie marine ambientali di prossima generazione, con l'obiettivo di supportarne lo sviluppo accelerato. e disponibilità in tutto il settore.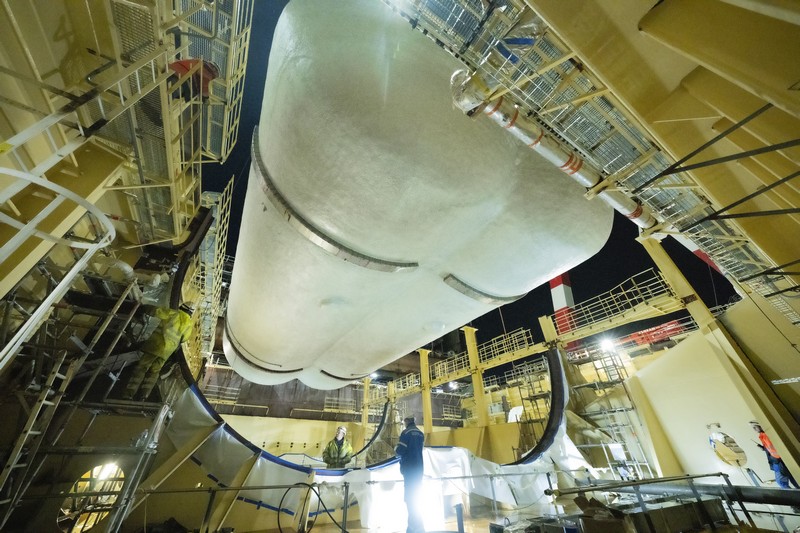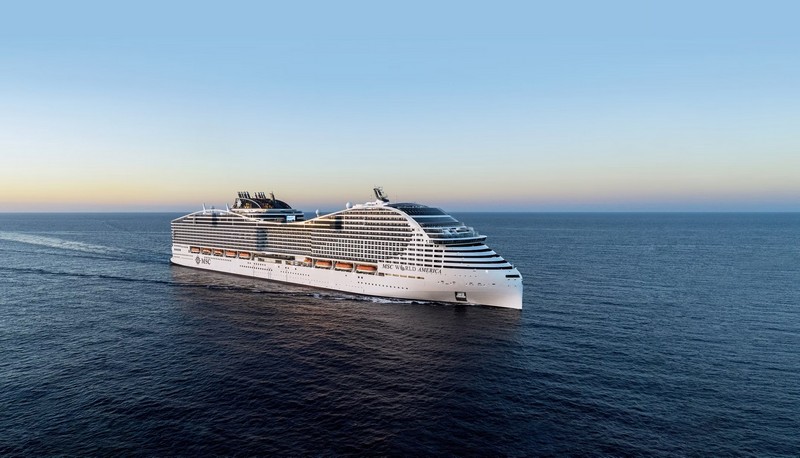 ---
LNG FUEL TANKS INSTALLED ON MSC WORLD AMERICA
Geneva, Switzerland – November 9, 2023 – Construction of MSC World America, MSC Cruises' next newbuild has reached its halfway stage. Liquified natural gas (LNG) fuel tanks were recently installed on board the line's 23 ship at the Chantiers de l'Atlantique shipyard in Saint-Nazaire, France.
Work started on MSC Cruises' third LNG-powered vessel in October 2022. The ship will enter service in April 2025 and be based at the line's state-of-the-art terminal at PortMiami, Florida, which is set to be the largest cruise terminal in North America once completed.
MSC Cruises' other LNG-powered ships are MSC World Europa, which launched in December 2022 and is the sister ship of MSC World America, and MSC Euribia which came into service in June 2023.
Linden Coppell, VP Sustainability and ESG, MSC Cruises, said, "LNG is an important step forward in our ambition to achieve net zero greenhouse gas emissions by 2050 and we're looking forward to base for the first time in the United States a ship powered by the fuel. LNG is a fuel in transition and poised to make way for bio-LNG and synthetic LNG as they become available at scale as part of our decarbonization journey."
MSC World America will sail 7-night itineraries in the Caribbean Sea during her inaugural season with all voyages calling at Ocean Cay MSC Marine Reserve, the line's private island in The Bahamas.
The 22-deck ship with a gross tonnage of 215,863 will measure 1,092 feet in length and 155 feet wide. Offering more than 430,556 square feet of public space, MSC World America will have the capacity for 6,762 passengers and 2,138 crew, as well as feature 2,626 cabins.
MSC World America will have 13 restaurants, 20 bars and lounges, six swimming pools, three entertainment venues, an 11-deck-high dry slide, spa, gym, waterpark and dedicated area for children of all ages.
About MSC Cruises
MSC Cruises is the world's third largest cruise brand as well as the market leader in Europe, South America, the Gulf region, and Southern Africa. It is also the fastest growing global cruise brand with a strong presence in the Caribbean, North America, and the Far East markets.
Headquartered in Geneva, Switzerland, MSC Cruises is one of the two brands that sit within the Cruise Division of MSC Group, the world's leading and privately held shipping and logistics conglomerate with over 300 years of maritime heritage. MSC Cruises – the contemporary brand – has a modern fleet of 22 vessels combined with a sizeable future global investment portfolio of new vessels, terminals, and other assets. The fleet is projected to grow to 23 cruise ships by 2025, with options for six more vessel orders in place through 2030.
MSC Cruises offers its guests an enriching, immersive and safe cruise experience inspired by the Company's European heritage, where they can enjoy international dining, world-class entertainment, award-winning family programs, and the very latest user-friendly technology on board. To learn more about MSC Cruises' itineraries and experience on board its ships, click here.
The line's number one priority has always been the health and safety of its guests and crew, as well as the communities at the destinations its ships serve. In August 2020, MSC Cruises implemented a new comprehensive and robust health and safety protocol to become the first major line to return to sea. To learn more about MSC Cruises' health & safety protocol, click here.
MSC Cruises has long been committed to environmental stewardship, with a long-term goal to achieve net zero emissions for its operations by 2050. The Company is also a significant investor in next-generation environmental marine technologies, with the objective to support their accelerated development and availability industry-wide. To learn more about the Company's environmental commitment, click here.
Finally, to learn more about the MSC Foundation, MSC Group's own vehicle to lead, focus and advance its conservation, humanitarian and cultural commitments, click here.